Volvo S60: Cruise control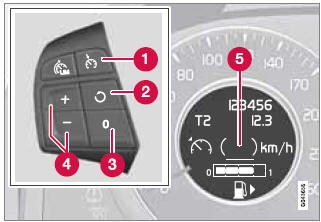 Steering wheel-mounted controls and display
1 - Standby mode
2 - Resume set speed
3 - Deactivating
4 - Activate/set speed
5 - Set speed indicator (parentheses indicate standby mode)
Engaging the cruise control function
Before a speed can be set, the cruise control system must be engaged (put in standby mode).
Press the

symbol (1).
> The symbol

illuminates and the text (---) mph (5) indicates that cruise control is in standby mode.

NOTE
Putting cruise control in standby mode does not set a cruising speed.
When cruise control is in standby mode, the driver's seat belt must be fastened before a cruising speed can be set.
Setting a speed
Use the

or

buttons set the vehicle's current speed. The set speed is shown in the display.

NOTE
Cruise control cannot be engaged at speeds below 20 mph (30 km/h).
Adjusting the set speed
After a speed has been set, it can be increased or decreased by using the

or

buttons.
1. Press and hold down

or

until the vehicle reaches the desired speed.
> This will become the set speed when the button is released.
2. Press

or

for approximately a half second and release the button to increase or decrease vehicle speed by approximately 1 mph (1.6 km/h).

NOTE
A temporary increase in speed by pressing the accelerator pedal, for less than 1 minute (e.g. when passing another car), does not affect the current cruise control setting. The vehicle will automatically return to the previously set speed when the accelerator pedal is released.
If one of the cruise control buttons is kept depressed for more than approx. 1 minute cruise control is disengaged. The engine must then be switched off in order to reset cruise control.
Automatic deactivation
Cruise control is automatically deactivated temporarily if one of the following occurs:
If the speed drops below approximately 20 mph (30 km/h).
When the brake pedal is depressed.
If the gear selector is moved to position N.
During wheel spin or wheel lock-up.
If the vehicle's speed is increased by using the accelerator pedal for more than 1 minute.
The currently set speed will be saved in the system's memory.
Temporary deactivation
The driver can temporarily deactivate cruise control by pressing 0. The saved speed is shown in brackets in the information display.
Resume set speed
If cruise control has been deactivated temporarily, it can be reactivated by pressing

. The vehicle's speed returns to the most recently set speed.

WARNING
There may be a significant increase in speed after the

button has been pressed.
Deactivation
Cruise control is disengaged by pressing

or by switching off the engine. The set speed is cleared.

WARNING
Cruise control should not be used in heavy traffic or when driving on wet or slippery roads. Cruise control may not maintain set speed on steep downgrades.