Volvo S60: Removing the cover to access the bulbs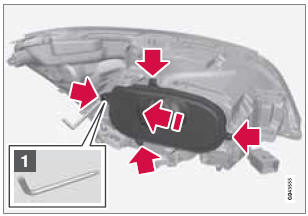 NOTE
Before starting to replace a bulb, see page 306.
1. Loosen the cover's four retaining screws with the tool (1) provided in the vehicle's tool kit (see page 290). The screws should not be removed completely.
CAUTION
Use the tool from the vehicle's tool kit to loosen the screws. A screwdriver or other sharp object could scratch the headlight.
2. Push the cover to the side.
Reinstall the cover in the reverse order.