Volvo S60: Center console controls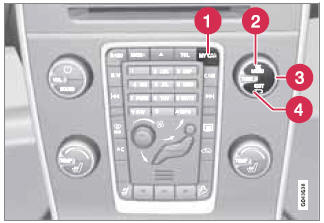 Center console controls for menu navigation
1 - Press MY CAR to access the My Car menus.
2 - Press OK/MENU to select a highlighted selection or to store a certain function in the system's memory.
3 - Turn to navigate up/down among menu selections.
4 - EXIT
EXIT functions
EXIT can be used to go back in the menu structure or to cancel the most recent selection. The results of pressing EXIT vary, depending on where you are in the menu structure.
Press EXIT briefly to go back one step at a time in the current menu.
Press and hold EXIT to go to the main MY CAR menu.
From the main MY CAR menu, press and hold EXIT to go to the infotainment system's main view. See page 208 for additional information.