Subaru Legacy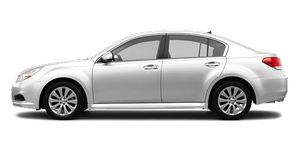 See also:
Department Of Transportation Uniform Tire Quality Grades
The following tire grading categories were established by the National Highway Traffic Safety Administration. The specific grade rating assigned by the tire's manufacturer in each category is ...
Measuring and adjusting air pressure to achieve proper inflation
Check and, if necessary, adjust the pressure of each tire (including the spare) at least once a month and before any long journey. Check the tire pressures when the tires are cold. Use a pressure ...
Servicing the brakes
If the red brake warning lamp lights up in the instrument cluster and you hear a warning tone while the engine is running, the brake fluid level may be too low. Observe additional warning messa ...