Volvo S60: Engine compartment, overview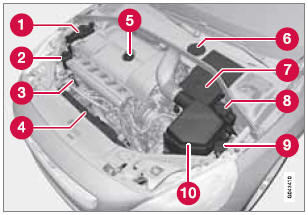 The appearance of the engine compartment may vary depending on engine model.
Coolant expansion tank
Power steering fluid reservoir
Engine oil dipstick
Radiator
Filler cap for engine oil
Cover over brake fluid reservoir
Battery
Relay and fuse box
Washer fluid reservoir
Air cleaner

WARNING
The cooling fan may start or continue to operate (for up to 6 minutes) after the engine has been switched off.

WARNING
The ignition should always be completely switched off before performing any operations in the engine compartment.
The distributor ignition system operates at very high voltages. Special safety precautions must be followed to prevent injury. Always turn the ignition off when:
Replacing distributor ignition components e.g. plugs, coil, etc.
Do not touch any part of the distributor ignition system while the engine is running. This may result in unintended movements and body injury.