Volvo S60: Locking/unlocking the trunk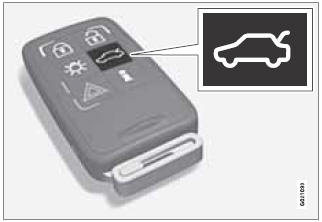 Trunk unlock button on the remote key
Unlocking the trunk with the remote key
Press the trunk unlock button on the remote.
Press once: This unlocks but does not open the trunk. The trunk can then be opened by pressing the rubber plate near the trunk lock. If the trunk is not opened within two minutes it will automatically relock and the alarm will be rearmed.
Press twice: This both unlocks the trunk and pops it open slightly.

NOTE
Any excess weight (snow, etc.) on the trunk lid may prevent it from opening.