Mercedes-Benz E-Class: Tire labeling overview
The following markings are on the tire in addition to the tire name (sales designation) and the manufacturer's name: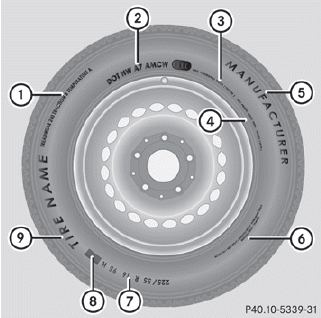 1. Uniform tire Quality Grading Standard
2. DOT, Tire Identification Number
3. Maximum tire load
4. Maximum tire pressure
5. Manufacturer
6. Tire material
7. Tire size designation, load-bearing capacity and speed rating
8. Load index
9. Tire name
Tire data is vehicle-specific and may deviate from the data in the example.