BMW 5 Series: ECO PRO
Consistent tuning to minimize fuel consumption for maximum range with maximum driving stabilization.
Comfort functions and the engine controller are adjusted.
The program can be configured to individual specifications.
Activating ECO PRO

Press button repeatedly until ECO PRO is displayed in the instrument cluster.
Configuring ECO PRO
1. Activate ECO PRO.
2. "Configure ECO PRO"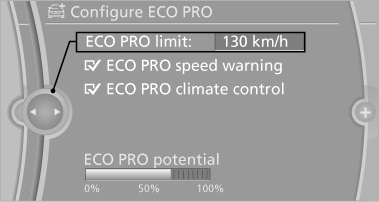 or
1. "Settings"
2. "Driving mode"
3. "Configure ECO PRO"
Make the desired settings.