BMW 5 Series: ECO PRO
The concept
ECO PRO supports a driving style that saves on fuel consumption. For this purpose, the engine control and comfort functions, e. g. the climate control output, are adjusted.
In addition, context-sensitive instructions can be displayed that assist in driving in a manner that optimizes fuel consumption.
The extension of the range that is achieved as a result can be displayed in the instrument cluster.
Activating ECO PRO

Button should be pressed and held until ECO PRO is displayed in the instrument cluster.
Display in the instrument cluster
ECO PRO bonus range

An extension of the range can be achieved by an adjusted driving style.
This is displayed as the bonus range in the instrument cluster.
Driving style

In the tachometer, a mark in the bar indicator indicates the current efficiency of the driving style corresponding to the accelerator pedal position.
▷ Blue display: efficient driving style as long as the mark moves within the blue range.
▷ Gray display: adjust driving style, e. g. by backing off the accelerator pedal.
The display switches to blue as soon as all conditions for fuel-economy-optimized driving are met.
ECO PRO Tip - driving instruction

The arrow indicates that the driving style can be adjusted to be more fuel efficient by backing off the accelerator.
Additional symbols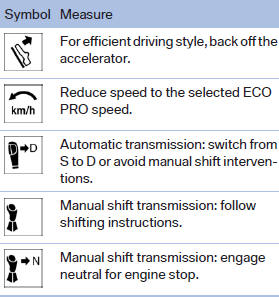 Configuring ECO PRO
1. "Settings"
2. "Driving mode"
3. "Configure ECO PRO"
4. Configure the program.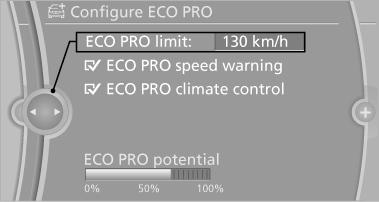 ECO PRO Tip
▷ "ECO PRO limit:":
Set ECO Pro speed at which an ECO PRO Tip is to be displayed.
▷ "ECO PRO speed warning":
A reminder is displayed if the set ECO PRO speed is exceeded.
ECO PRO climate control
"ECO PRO climate control" The climate control is adjusted to be fuel-efficient.
The following settings are optimized:
▷ Cooling or heat output of the automatic climate control
▷ Exterior mirror heating
▷ Seat heating
ECO PRO Potential
The percentage of potential savings that can be achieved with the current configuration is displayed.
Indications on the Control Display
EfficientDynamics
Information on fuel consumption and technology can be displayed during driving.
1. "Vehicle Info"
2. "EfficientDynamics"
Displaying fuel consumption history
The average fuel consumption can be displayed within an adjustable time frame.

"Consumption history"
Adjusting fuel consumption history time frame

Select the symbol.
Resetting fuel consumption history
1. "Options" Open.
2. "Reset consumption history"
Displaying EfficientDynamics info
The current efficiency can be displayed.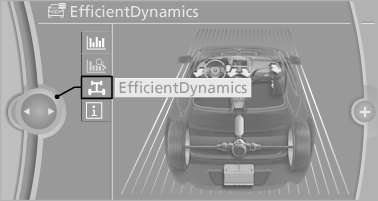 "EfficientDynamics Info" The following systems are displayed:
▷ Automatic engine start/stop function.
▷ Energy recovery.
▷ Climate control output.