BMW 5 Series: Filtering traffic bulletins
You can set which traffic bulletins appear on the map.
1. "Navigation"
2. "Map"
3. "Options" Open.
4. "Traffic Info categories"
5. Select the desired categories.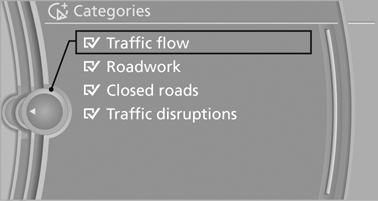 Traffic bulletins of the selected category are displayed on the map.
▷ Traffic bulletins that are relevant to the route are always shown.
▷ For your own safety, traffic bulletins that notify you of potentially dangerous situations, such as wrong-way drivers, cannot be hidden.