Ford Fusion: General information
WARNING:
Do not operate the informationdisplay controls when the vehicle ismoving.
Note: The information display will remainon for several minutes after you switch offthe ignition.
Note: If Sh on or SHIP ON is displayed,the vehicle shipping mode is switched on.
Have your dealer switch off the vehicleshipping mode.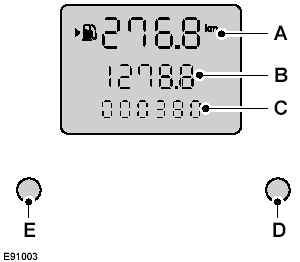 Type 1 information displayDistance to empty or clock ATripmeter BOdometer CSelect button DReset button E
Press the select button to scroll throughthe displays.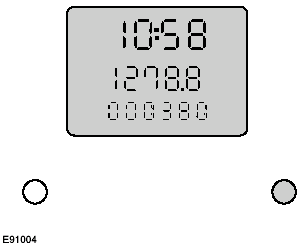 Setting the time
Note: You can only set the time throughthe audio unit on some vehicles. Seeseparate handbook.
1. Press the select button until the timeflashes in the display.
2. Press the select button to set thetime.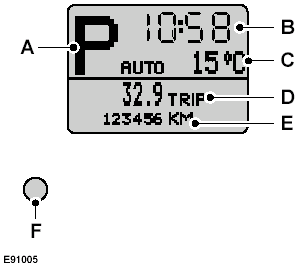 Type 2 information displaySelected gear AClock, radio station or CD track BOutside air temperature CTripmeter DOdometer EMessage indicator F
You can change the settings of variousfunctions through the information display.
The information display also providesinformation messages.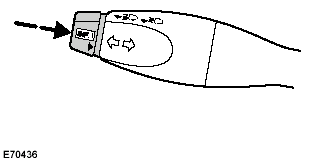 Press the button to scroll through thedisplays and hold the button to rest, selecta submenu or change a setting. Theinformation display will tell you whether ashort press of the button or long press ofthe button is required for the variousoptions.
Message indicator
The message indicator will come on tosupplement some messages. It will bered or amber depending on the severityof the message and will remain on untilthe cause of the message has beenrectified.
Display definitions
Distance to empty
Indicates the approximate distance thatyour vehicle will travel on the fuel in thefuel tank.
Average speed
Indicates the average speed of yourvehicle since the last reset.
Average fuel
Indicates the average fuel consumptionof your vehicle since the last reset.
Fuel economy
Indicates the current fuel consumption ofyour vehicle.