Honda Accord: How Your Side Curtain Airbags Work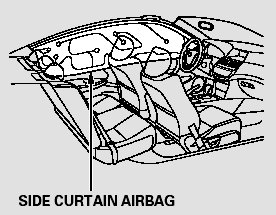 In a moderate to severe side impact, sensors will detect rapid acceleration and signal the control unit to instantly inflate the side curtain airbag.
If the impact is on the passenger's side, the passenger's side curtain airbag will inflate even if there are no occupants on that side of the vehicle.
One or both side curtain airbags may inflate in a moderate to severe frontal collision which causes the front airbags to deploy.
To get the best protection from the side curtain airbags, occupants should wear their seat belts and sit upright and well back in their seats.