Buick LaCrosse: Infotainment System Overview
The infotainment system is controlled by using the buttons on the faceplate and the touch screen.
See "Infotainment Control Buttons" in this section for more information.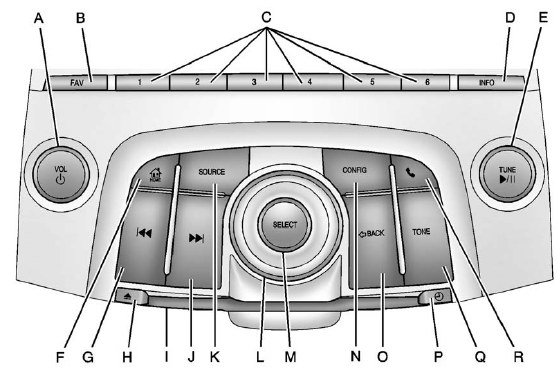 A. VOL/

(Volume/Power)
B. FAV (Favorites)
C. Buttons 1 to 6
D. INFO (Information)
E. TUNE /

(Tune/Play/Pause)
F.

/HOME (Home Page)
G.

(Seek Down)
H.

(Eject)
I. CD Slot
J.

(Seek Up)
K. SOURCE
L. Menu Knob
M. SELECT
N. CONFIG (Configuration Menu)
O.

BACK
P.

(Clock Menu)
Q. TONE
R.

(Phone menu)