Buick LaCrosse: License Plate Lamp
The license plate lamps for this vehicle are on the trunk lid.
To replace one of these bulbs:
1. Open the trunk. See Trunk for more information.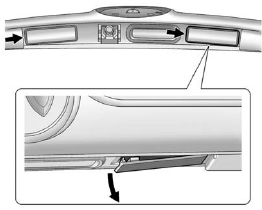 2. Push the end on either of the lamp assemblies (passenger side shown) and then move the lamp assembly down to remove it from the trunk lid.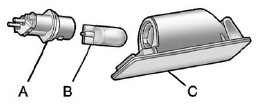 A. Bulb Socket
B. Bulb
C. Lamp Assembly
3. Turn the bulb socket (A) counterclockwise to remove it from the lamp assembly (C).
4. Pull the bulb (B) straight out of the bulb socket.
5. Push the replacement bulb straight into the bulb socket and turn the bulb socket clockwise to install it into the lamp assembly.
6. Move the lamp assembly into the trunk lid, engaging the clip side first.
7. Push on the lamp side opposite the clip until the lamp assembly snaps into place.