Subaru Legacy: LOCK
The key can only be inserted or removed in this position. The ignition switch will lock the steering wheel when you remove the key.
If turning the key is difficult, turn the steering wheel slightly to the right and left as you turn the key.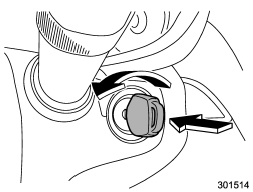 The key can be turned from "Acc" to "LOCK" only when the key is pushed in while turning it (all models) and the select lever is in the "P" position (AT and CVT models).