Buick LaCrosse: Manual Seats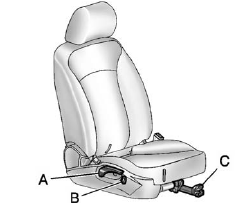 Manual Seats
A. Seatback Recline Lever
B. Height Adjustment Switch
C. Seat Position Handle
To adjust the seat position:
1. Pull the handle (C) under the front of the seat cushion.
2. Slide the seat to the desired position and release the handle (C).
3. Try to move the seat back and forth to be sure it is locked in place.
Press and hold the top or bottom of the switch (B) to raise or lower the seat. Release the switch (B) when the desired height is reached.
To raise or recline the seatback, use the lever (A) on the outboard side of the seat.
See Seat Adjustment and Reclining Seatbacks for more information.