Ford Fusion: Manual transmission
5-speed manual transmission
CAUTION:
Do not apply any undue lateral forceto the gear lever when changing from5th to 4th gear. This could lead to theinadvertent selection of 2nd gear and cancause damage to the transmission.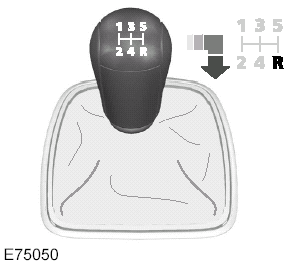 Selecting reverse gear
CAUTION:
Do not engage reverse gear whenthe vehicle is moving. This can causedamage to the transmission.
Note: Fully depress the clutch pedal andwait for three seconds before you selectreverse gear.
Durashift EST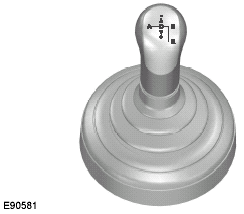 Selector lever positionsReverse RNeutral NDrive (automated) DDrive (manual) +/-Drive mode A
WARNINGS:
Apply the brakes before moving theselector lever and keep themapplied until you are ready to moveoff.
Select reverse only when yourvehicle is stationary and the engineis at idle speed.
Note: A cold engine has a higher idlespeed. This will increase the tendency foryour vehicle to creep when you haveselected a drive gear.
The selected gear will be shown in theinformation display. If it flashes, apply thebrakes or press the accelerator pedal tomove off.
Push the lever to the left (drive mode) toselect manual drive or automated drive.
Moving off
1. Release the parking brake.
2. Release the brake pedal and pressthe accelerator pedal.
Stopping
1. Release the accelerator pedal andpress the brake pedal.
2. Apply the parking brake.
Kickdown
Press the accelerator pedal fully to selectthe next highest gear for optimumperformance. Release the acceleratorpedal when you no longer requirekickdown.