Buick LaCrosse: Parking Brake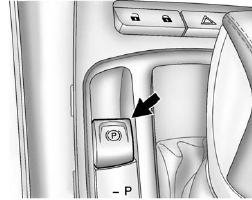 Parking Brake
The vehicle has an Electric Parking Brake (EPB). The switch for the EPB is in the center console. The EPB can always be activated, even if the ignition is off. To prevent draining the battery, avoid repeated cycles of the EPB system when the engine is not running.
The system has a parking brake status light and a parking brake warning light. See Electric Parking Brake Light. There are also three Driver Information Center (DIC) messages. See Brake System Messages for more information. In case of insufficient electrical power, the EPB cannot be applied or released.
Before leaving the vehicle, check the parking brake status light to ensure that the parking brake is applied.