Volvo S60: Selecting a magnetic zone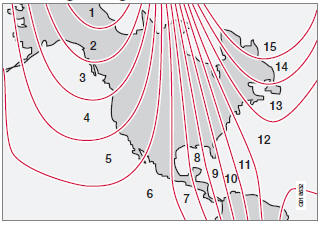 Magnetic zones.
The earth is divided into 15 magnetic zones. The correct zone must be selected for the compass to work correctly.
1. Put the ignition in mode II.
2. Using a pen or similar object, press and hold the button on the rear side of mirror for at least 3 seconds. The number for the current area will be shown.
3. Press the button repeatedly until the number for the required geographic area (1 – 15) is shown.
4. The display will revert to showing the compass direction after several seconds.