Subaru Legacy: Selecting reverse gear
CAUTION
Shift into reverse ONLY when the vehicle has completely stopped. It may cause damage to the transmission to try shifting into reverse when the vehicle is moving.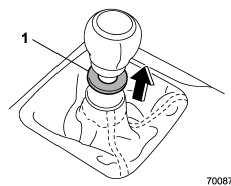 1) Slider
You must raise the slider and hold it in that position before you can move the shift lever to the "R" position.
To change gears, fully depress the clutch pedal, move the shift lever, and gradually let up on the clutch pedal.
If it is difficult to shift into gear, put the transmission in neutral, release the clutch pedal momentarily, and then try again.