Mercedes-Benz E-Class: Selector lever
Overview of transmission positions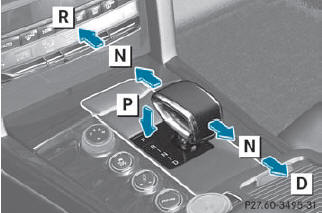 Selector lever in AMG vehicles with P button
P Park position with parking lock
R Reverse gear
N Neutral
D Drive
Transmission position and drive program display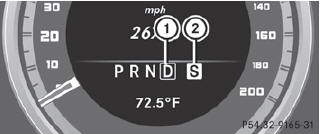 1. Transmission position display
2. Drive program display
The indicators light up when the SmartKey is inserted into the ignition lock. The indicators go out when the SmartKey is removed from the ignition lock.
AMG vehicles: the current position of the selector lever is shown by the indicators next to the selector lever.
If the transmission position display in the multifunction display is not working, you should pull away carefully to check whether the desired transmission position is engaged. Ideally, you should select transmission position D and drive program E. Do not restrict the shift range.