Buick LaCrosse: Steering Wheel Controls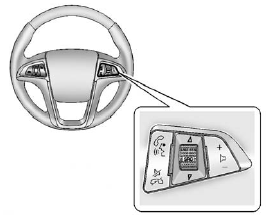 Steering Wheel Controls
For vehicles with audio steering wheel controls, some audio controls can be adjusted at the steering wheel.

(Push to Talk): For vehicles with a Bluetooth®, OnStar, or navigation system, press to interact with those systems. See Bluetooth (Overview) or Bluetooth (Infotainment Controls) or Bluetooth (Voice Recognition) or Bluetooth (UHP Mexico Only), OnStar Overview, or the navigation manual for more information.

(Mute/End Call): Press to silence the vehicle speakers only.
Press again to turn the sound on.
For vehicles with OnStar or Bluetooth systems, press to reject an incoming call, or end a current call.

SRC

(Thumbwheel Control):
Turn to select an audio source.
Press

or

to select the next or previous favorite radio station, CD, or MP3 track.

(Volume): Press + to increase the volume. Press − to decrease the volume.