Buick LaCrosse: Storing a Flat or Spare Tire and Tools With a Screw in Fastener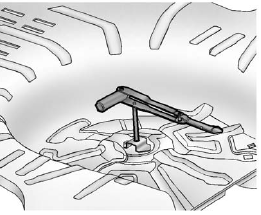 1. Turn the wrench counterclockwise to remove the fastener.
2. Replace the fastener with the one provided in the foam.
3. Turn the wrench clockwise to tighten the fastener.
4. Replace the foam, jack and tools, and the tire.
5. Turn the retainer nut clockwise to secure the tire.
6. Place the floor cover on the wheel.