Buick LaCrosse: Storing a Flat or Spare Tire and Tools With a Slide In Fastener
1. If the flat tire is larger than the spare tire, use the longer mounting bolt.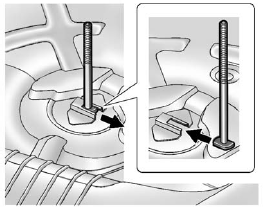 2. Slide the shorter bolt to remove it from the floor and insert the longer one.
3. Replace the jack and tools in their original storage location.
4. Place the tire, lying flat, facing up in the spare tire well.
5. Turn the retainer nut clockwise to secure the tire.
6. Place the floor cover on the wheel.
The compact spare is for temporary use only. Replace the compact spare tire with a full-size tire as soon as you can.