Mercedes-Benz E-Class: Tailgate emergency release (Wagon)
If the tailgate can no longer be opened from outside the vehicle, use the emergency release on inside of the tailgate.
On vehicles with a folding bench seat you can open the tailgate from inside the vehicle using the handle.
•► Take the mechanical key out of the SmartKey
To open the tailgate completely, a minimum clearance of 6.36 ft (1.94 m) above the ground is necessary.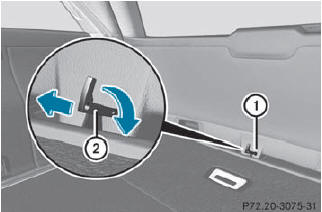 The tailgate swings upwards and to the rear when opened. Therefore, make sure that there is sufficient clearance above and behind the tailgate.
•► Insert mechanical key 2 into opening in trim 1.
•► Turn mechanical key 2 90° clockwise.
•► Push mechanical key 2 in the direction of the arrow and open the tailgate.