Subaru Legacy: Temperature sensors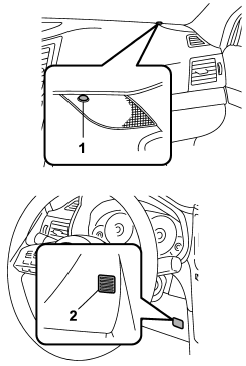 1) Solar sensor
2) Interior air temperature sensor
The automatic climate control system employs several sensors. These sensors are delicate. If they are treated incorrectly and become damaged, the system may not be able to control the interior temperature correctly. To avoid damaging the sensors, observe the following precautions:
– Do not subject the sensors to impact.
– Keep water away from the sensors.
– Do not cover the sensors.
The sensors are located as follows:
– Solar sensor: beside the speaker grille on the dashboard
– Interior air temperature sensor: on the side of the driver-side part of the center panel
– Outside temperature sensor: behind front grille.