Volvo S60: Low beam, Halogen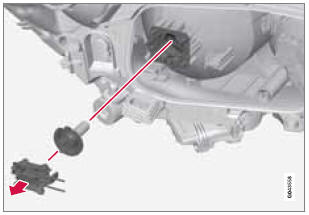 1. Remove the headlight housing from the vehicle (see page 306).
2. Remove the cover over the bulbs (see page 308).
3. Unplug the connector from the bulb.
4. Remove the bulb by pulling it straight out.
5. The guide lug on the new bulb should be straight up when the bulb is inserted into the holder and the bulb should snap into place.
6. Put the cover back into position and reinstall the headlight housing.