BMW 5 Series: Active seat ventilation, front
The seat cushion and backrest surfaces are cooled by means of integrated fans.
The ventilation rapidly cools the seat, e. g., if the vehicle interior is overheated or for continuous cooling at high temperatures.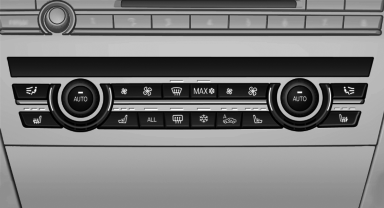 Switching on

Press the button once for each ventilation level.
The highest level is active when three LEDs are lit.
If when the seat ventilation is turned on the Maximum Cooling function is activated, the seat ventilation automatically switches to the highest level. When the Maximum Cooling function is switched off, the unit switches to the previously set level.
After a short time, the system automatically moves down one level in order to prevent excessive cooling.
Switching off
Press the button longer.
The LEDs go out.