Ford Fusion: Electromagnetic compatibility
WARNINGS:
Your vehicle has been tested andcertified to European legislationsrelating to electromagneticcompatibility (2004/104/EC). It is yourresponsibility to ensure that anyequipment you have fitted complies withapplicable local legislations. Have anyequipment fitted by properly trainedtechnicians.
Radio frequency (RF) transmitterequipment (e.g. cellular telephones,amateur radio transmitters etc.) mayonly be fitted to your vehicle if they complywith the parameters shown in the tablebelow. There are no special provisions orconditions for installations or use.
Do not mount any transceiver,microphones, speakers, or anyother item in the deployment pathof the airbag system.
Do not fasten antenna cables tooriginal vehicle wiring, fuel pipes andbrake pipes.
Keep antenna and power cables atleast 100mm from any electronicmodules and airbags.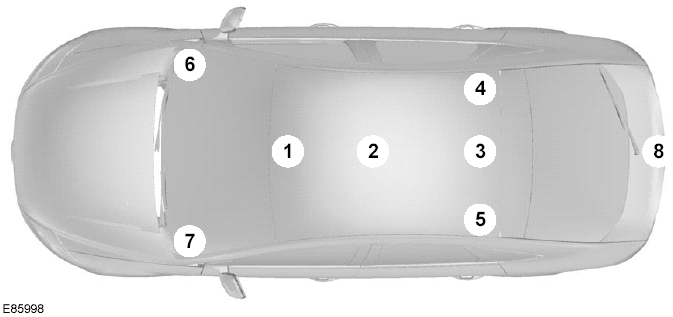 1 Only for GSM/3G cellular phones, with a patch antenna installed inside of the frontwindscreen.
Note: After the installation of RFtransmitters, check for disturbances fromand to all electrical equipment in thevehicle, both in the standby and transmitmodes.
Check all electrical equipment:
• with the ignition ON.
• with the engine running.
• during a road test at various speeds.
Check that electromagnetic fieldsgenerated inside the vehicle cabin by thetransmitter installed do not exceed humanexposure limits specified in EU directive2004/40/EC.