Ford Fusion: Engine coolant check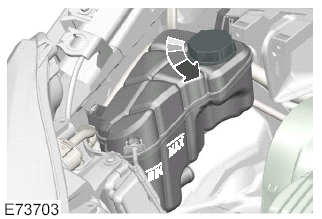 Checking the coolant level
CAUTION:
Make sure that the coolant level isbetween the MIN and the MAXmarks.
Note: Coolant expands when it is hot.
The level may therefore extend beyondthe MAX mark.
Topping up the coolant
WARNING:
Do not remove the coolant reservoircap when the engine is hot. Wait forthe engine to cool down.
Unscrew the cap slowly. Any pressurewill escape slowly as you unscrew thecap.
WARNINGS:
Only add coolant when the engineis cold. If the engine is hot, wait10 minutes for the engine to cooldown.
Do not allow coolant to touch yourskin or eyes. If this happens, rinsethe affected areas immediately withplenty of water and contact your doctor.
CAUTION:
Do not spill coolant on any part of theengine.
Only add coolant that meets the Fordspecification. See Technicalspecifications.