Buick LaCrosse: Exterior Lamp Controls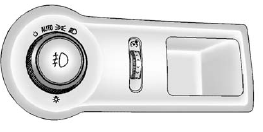 Exterior Lamp Controls
The exterior lamp control is located on the instrument panel on the outboard side of the steering wheel.
Turn the control to the following positions:

(Off): Turns off the exterior lamps. The knob returns to the AUTO position after it is released.
Turn to off again to reactivate the AUTO mode.
AUTO (Automatic): Automatically turns the exterior lamps on and off, depending on outside lighting.

(Parking Lamps): Turns on the parking lamps together with the following:
• Sidemarker Lamps
• Taillamps
• License Plate Lamps
• Instrument Panel Lights

(Headlamps): Turns on the headlamps together with the following:
• Sidemarker Lamps
• Taillamps
• License Plate Lamps
• Instrument Panel Lights
• Parking Lamps