Subaru Legacy: Legacy
To fold down the seatback, perform the following procedure.
1. Open the trunk lid. Refer to "Opening the trunk lid (Legacy)" F2-9 or "To open the trunk lid from inside" F2-24.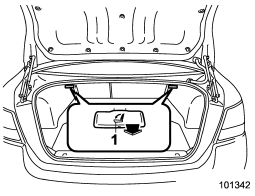 1) Release lever
2. Pull the release lever on the side that you want to fold down.
3. Fold the seatback down.
To return the seatback to its original position, raise the seatback until it locks into place and make sure that it is securely locked.