Volvo S60: Opening the trunk manually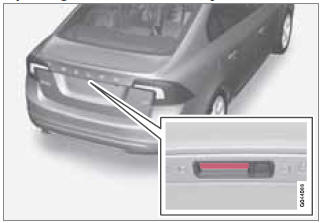 The trunk is held closed by an electronic locking mechanism. To open:
1. Press lightly on the rubberized plate under the handle to release the lock.
2. Lift the handle to open the trunk lid.
CAUTION
When pressing the rubberized plate, only light pressure is necessary to release the trunk's electronic locking mechanism.
When opening the trunk lid, pull it up using the handle. Too much pressure on the rubberized plate can damage its electrical connections.