Ford Fusion: Principle of operation
Electronic stability programme(ESP)
WARNING:
ESP does not relieve you of yourresponsibility to drive with due careand attention.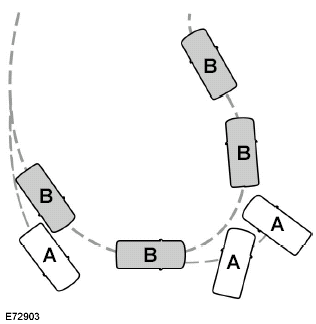 without ESP Awith ESP B
The ESP supports stability when thevehicle starts to slide away from yourintended path. This is performed bybraking individual wheels and reducingengine torque as needed.
The system also provides an enhancedtraction control function by reducingengine torque if the wheels spin when youaccelerate. This improves your ability topull away on slippery roads or loosesurfaces, and improves comfort by limitingwheel spin in hairpin bends.
Stability control (ESP) warning lamp
The ESP warning lamp will flash when thesystem is operating. See Warninglamps and indicators.
Emergency brake assist
WARNING:
Emergency brake assist does notrelieve you of your responsibility todrive with due care and attention.
Emergency brake assist will detect whenyou brake heavily by measuring the rateat which you press the brake pedal. It willprovide maximum braking efficiency aslong as you press the pedal. Emergencybrake assist can reduce stoppingdistances in critical situations.