Ford Fusion: Programming the remote control
A maximum of four remote controls(including the ones supplied with thevehicle) can be programmed.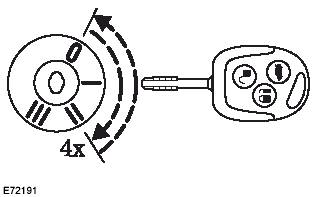 To programme a new remote control:
• Turn the ignition key to position II fourtimes within six seconds.
• Switch off the ignition. A tone soundsto indicate that it is now possible toprogramme a new remote control.
• Press any button on a new remotecontrol. A tone will sound asconfirmation. Repeat this last step forall of your remote controls, includingthe original.
• Switch the ignition back on or wait forten seconds without programminganother remote control to end remotecontrol programming. Only the remotecontrols which you have justprogrammed are now able to lock andunlock your vehicle.
Re-programming the unlockingfunction
You can change the unlocking functionso that pressing the unlock button oncedeactivates the central locking or doublelocking, disarms the anti-theft alarmsystem and unlocks the driver's door.
Pressing the unlock button twice withinthree seconds also unlocks thepassengers' doors.
If you want the tailgate to be locked whiledriving, press the locking button on thedriver's door to activate central locking.
In order to re-programme the function,press and hold the unlock and lockbuttons simultaneously for at least fourseconds with the ignition switched off.
The direction indicators will flash twice toindicate that the unlocking function hasbeen successfully re-programmed.
Pressing and holding both buttonssimultaneously for at least four secondsagain will change the function back.