Ford Fusion: Rear fog lamps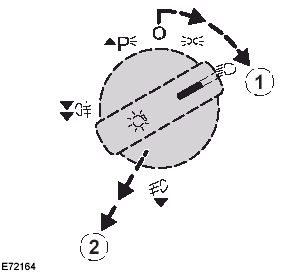 Rear fog lamps
WARNING:
The rear fog lamps may only beused when visibility is restricted toless than 50 m and must not beused when it is raining or snowing.
Note: On vehicles not equipped withfront fog lamps the control switch can bepulled out only one position.
Note: It is not possible to switch on therear fog lamps when the lighting switch isset to AUTO. To switch on the rear foglamps, switch off the autolamps feature.
Switch on the exterior lamps 1 and pullout the control two positions 2.