Chrysler 200: Map/Reading/Interior Lights
These lights are mounted between the sun visors above the rearview mirror. Each light can be turned on by pressing the barrel. Press the barrel a second time to turn the light off. Both of these lights can swivel so that the light can be aimed at a specific spot, if desired. The lights will remain on until the switch is pressed a second time, so be sure they have been turned off before leaving the vehicle. They will not turn off automatically. Interior lighting also comes on when a door is opened or the dimmer control is turned fully upward, past the second detent.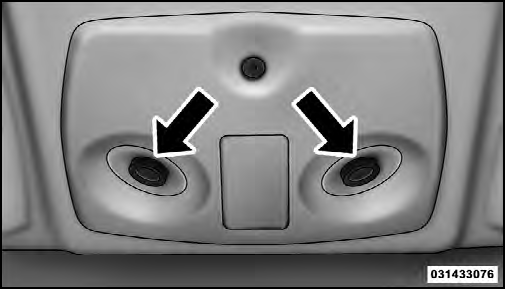 Interior Dome Lamp
There is a second light located midway back in the headliner.
To protect the battery, the interior lights will turn off automatically 10 minutes after the ignition switch is moved to the LOCK position. This will occur if the interior lights were switched on manually or are on because a door is open. To restore interior light operation, either turn the ignition switch ON or cycle the light switch.