BMW 5 Series: Manual transmission
Observe before towing your vehicle

The parking brake is blocked
The parking brake cannot be released manually.
When the parking brake is blocked, do not tow with the front axle lifted or the vehicle can be damaged.
Contact your service center.◀
Gearshift lever in neutral position.
Towing

Follow the towing instructions
Follow all towing instructions; otherwise, vehicle damage or accidents may occur.◀
▷ Make sure that the ignition is switched on; otherwise, the low beams, tail lamps, turn signals, and windshield wipers may be unavailable.
▷ Do not tow the vehicle with the rear axle tilted, as the front wheels could turn.
▷ When the engine is stopped, there is no power assist. Consequently, more force needs to be applied when braking and steering.
▷ Larger steering wheel movements are required.
Tow truck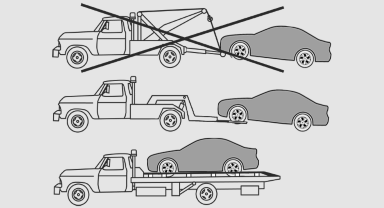 Have your vehicle transported with a tow truck with a so-called lift bar or on a flat bed.

Do not lift the vehicle
Do not lift the vehicle by the tow fitting or body and chassis parts; otherwise, damage may result.◀